I've been nominated by Daniela @ BooksToGetLostIn and Rae @ BookmarkChronicles. Thank you so so much! Sorry for doing this after such a long time! I'm being very late. *imaginary sorry ice-cream party* And you should leave a visit for the two awesome bloggers above. It's kind of a one way trip. 😉
The Rule
Acknowledge the blog who nominated you and display the award
Answer eleven questions that the blogger gives you
Give eleven random facts about yourself
Nominate eleven bloggers that you think are deserving of the award (with less than 200 followers)
Let the bloggers know you have nominated them
Give them eleven questions to answer
---
Daniela's Questions
1. Think back: Your favourite book as a child?
I remember answering this question before. It was a sunny day, with birds singing on the tree and me running through the meadow…. Oops, sorry, wrong one. 😀 Well, my favorite childhood book was and will always the The Very Hungry Caterpillar by Eric Carle. It's kinda like my dream job too. Get to eat and eat and eat and become a pretty butterfly.
2. Which fictional character would you like as a brother? As a sister?
I have a little sister, so I love the fact that, although we eldest kids sometimes (read: always) have to "sacrifice" to our little ones, but the feeling of being The Boss over them, even if they don't admit it, is absolutely wonderful. So I don't think I'll pass the chance of being a big sis away.
Hmm… I would choose Sirius Black, from Harry Potter, for being my little brother. Just imagine me being all worry and bossy every time he got into trouble is priceless. He will probably scowl at me with my attempt to pad his head, but it's just too adorable. Then imagine how heart-broken, literally, I would be when he died…. (Mariana, TOO SOON!)
[ Source: http://www.zerochan.net/ ]
3. If your life would be a book… which genre would it be?
(Nerd genre. Do they even have that?)
Kidding. It would probably be fantasy. Mariana and the Adventure Through High School without Getting Lost. I would get help from Mr. Wizard Dean, or Mrs. English Fairy to fight the Finals Monster. Seems like a great plot.
4. What is your biggest pet peeve in books?
It's not waterproof and it cost money (thank you Captain Mariana the Obvious). If I am the World's Supreme Lord, all books will be free and are printed in a kind of ink that can glow in the dark for all night bookworms.
5. What is your favourite book turned into movie/tv series?
Harry Potter, of course. They are amazing. Only if other movies based on books followed the original storyline, there would be harder options to choose from. Too bad…
6. What is the worst book turned into movie/tv series?
*sigh* Percy Jackson…
Okay. I need to clarified something. Percy Jackson movies are great. They are good movies, but unfortunately, not good movies based on books. I really enjoy the movies. But let be honest here, the movies are totally no no from the books.
7. Which was the last book that made you lose sleep because you read way too long into the night?
Percy Jackson's Greek Heroes. I got it later than my friend, who is also a big fangirl. After one long week hearing her rambled nonstop about how great the book is (thankfully she didn't spoil it), I immediately started it right after I got it and stayed up all night to finish. The illustrations are peerless.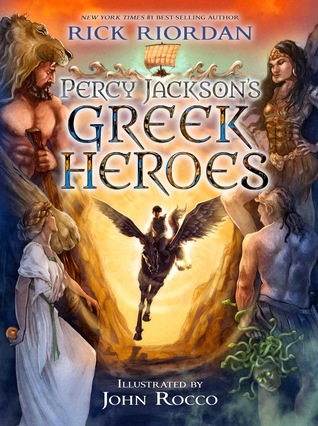 8. Have you ever dreamed about a book?
Oh yes. A lot.
One time, I dreamed about running in the wood with Annabeth, Luke, and Thalia (from Percy Jackson) when they were young. The other time, I dreamed about Hogwarts (Harry Potter) where I totally bombed my flying test by flying up to high and break the broom in the process. I woke up before hitting the ground. 😉 And if you count Bible as a book, then I once dreamed about God piggybacked me to Heaven (I was 7) and accidentally dropped me at a crossroads. 😀 There were many more, like sailing with Ananna on a pirate ship (The Assassin's Curse), lost on a deserted island with Pi (Life of Pi), so on and so forth. Have to say, my brain scares me me sometimes.
9. Who is your favourite side character?
10. Who is your favourite villain?
Tom Riddle (a.k.a. Voldemort)! Not only because he's awesome, has a wand, highly intelligent, and not to mention he actually looked good when he was young, but also, he has a very complicated past and fiercely determination that, although it wasn't for the good purpose, it was somewhat admirable. Now children, you don't go around killing people and splitting your soul in pieces, okay? 😉
11. Which book has to be published right now because you can't take the wait any longer?
The Sword of Summer by Rick Riordan. I need it NOW! The excitement is slowly killing me inside.
---
Rae's Questions
1. Best book you've read so far this year?
That's really hard to to choose, since this year can be considered the best year of reading for me. Probably Poison Study by Maria V. Snyder. It's a really great book about magic and somewhat military style. I love it to death! ❤
2. Favorite place to read?
My blue bean bag. I'm a proud owner of a humongous bean bag, which is about a size of a small bed. It's super comfy and great for curling up to read all four seasons.
3. How do spend your days off?
I would say "sleep", but I bet you expect more from me. Usually, I just spend most of my time with a book or my bed, or go swimming if the weather is good. I also spend some time drawing if my mood is on that day. My day is quite typically normal.
4. If you could spend one week anywhere in the world (all expenses paid) where would you go?
Ooh la la! Greece here I come. And did I mention I want to stay in the Royal Villa at Grand Resort Lagonissi? It's one of the most expensive hotel rooms in the world (about $35,000/night). Man, that's one year of college worth of tuition fee.
5. On a typical day, what do you eat for breakfast?
Nutella sandwich and milk. Always finish them less than 2 minutes. Life of a student whose house is far away from school.
6. Book that you would like see turned into a film?
It would make quite a list there. But recently, I read a book called Until We Meet Again by Renee Collins, which I really enjoyed. It's about time travel love, and I think it would make a great movie. Kinda remind me of The Age of Adaline, although it's about immortality, not time travel. The struggle with time and love really got to me, hard.
7. Do you cook? If so, what is your signature dish?
Fried egg. *straightest face that I can possibly manage to make*
8. What part of blogging do you enjoy the most?
The best part about blogging is being able to exchange my thoughts with the world out there. I couldn't really talk about books with anyone without causing them to yawn (all of my besties are not around anymore, and they are truly bookworms), so being able to do so is really precious to me. Also, my writing is improved greatly. 😀
9. Most prized possession?
My baby kindle! ❤ *rolling around hugging my kindle* That's my life there.
10. What would you do if you won the lottery?
I'll take them in cash and put them in my room and swim in them… *dream~ing*
Kidding. 😀 I'm afraid that I'm going to bore you all. But if I have to do it realistic way, I would just put it in a bank account for college budget.
---
Random Facts
(that are not so random…)
A frog jumped into my tennis shoe once, and since then I'm terrified of them.
I'm a big manga/anime fan.
I'm really into mythology, even before reading Percy Jackson (the reason why I'm into the series)
I haven't seen Divergent or The Hunger Game yet
I have an undying love for chocolate and anything that looks like it, except for coffee
I prefer downtown/city life more than quiet countryside
I've in love with the color red for the rest of my life
I'm practicing to become an ambidextrous person (both left and right handed)
Basically nothing can upset or offend me. I'm super easy-going
I have a huge collection of playing cards sitting proudly in my closet
I probably bored you all with the facts above 😉
---
Questions Time!
If you could choose your age forever, what age would you choose and why?

If you could have any question answered, what would it be?

Would you rather be invisible or be able to read minds? Why?

What two things do you consider yourself to be very good at?

What two things do you consider yourself to be very bad at?

What was one new experience you tried that was completely unknown or uncomfortable to you at the time you tried it?

Is there a story behind your name? If so, can you tell us?

What is the one thing you would really like to own? Why?

If you had one day to live over again, what day would you pick?

If your house was burning down, what three objects would you try and save?

What is the first thing you notice about someone when you first meet?
---
And the Nominees are…
Have fun with the award! Y'all really deserve it. 😀 Can't wait for your answers!